System Solutions / Palletshipper
IT'S NO BIG THING WHEN TEMPERATURE-SENSITIVE GOODS ARRIVE SAFELY BY THE PALLET LOAD.
Safely shipping large batches of temperature-sensitive products is now easy thanks to prequalified solutions from Storopack. With our passively temperature-regulated pallet shippers, entire Euro pallets can be effortlessly transported in a temperature-controlled manner.

Storopack customers can choose between our thermo pallet shipper in Neopor® for placing on a Euro pallet (for a temperature range of 15 to 25°C) and our XXL pallet shipper in XPS for a temperature range of 2 to 25°C, with the latter able to hold an entire packed Euro pallet.
Both versions are able to keep the temperature stable for an exceptionally long period of at least 120 hours. They also boast outstanding ease of use and flexibility; the XXL pallet shipper, for instance, can be assembled by just one person within a few minutes. With Storopack pallet shippers, you have exactly what you need to ship temperature-sensitive products around the world.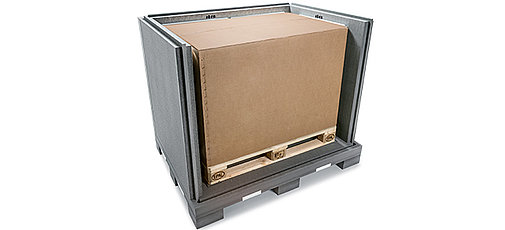 THE XXL PALLET SHIPPER AT A GLANCE:
Lightning-fast assembly by just one person in less than 10 minutes
Suitable for shipping Euro pallets
Packout for all seasons
No defrosting of the cooling medium
High reliability thanks to outstanding performance at temperatures of –20°C to +60°C
Temperature stability for up to 120 h
Reload function for storage in cold rooms at 5°C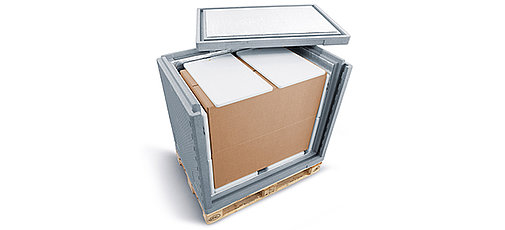 THE THERMO PALLET SHIPPER AT A GLANCE:
Easy assembly in just five minutes
Includes high-insulating panels (HIPs) and PCM technology
Only 12 freezer packs required
Payload container with loading hatch for the products
Year-round packout
TECHNICAL SPECIFICATIONS:
| | XXL PALLET SHIPPER | THERMO PALLET SHIPPER |
| --- | --- | --- |
| MATERIAL | XPS | Neopor® |
| OUTER DIMENSIONS | 1520 x 1120 x 1355 mm | 1200 x 800 x 1050 mm |
| PAYLOAD CAPACITY | 1200 x 800 x 1030 mm | 926 x 516 x 782 mm |
| DIMENSIONAL WEIGHT | 385 kg | 168 kg |
| TEMPERATURE RANGE | 2-25 °C | 15-25 °C |
| TIME SPAN | 120 h | 120 h |
| OUTSIDE TEMPERATURE | min. -20 °C to max. +60 °C | min. -2 °C to max. +40 °C |
Storopack Hans Reichenecker GmbH

Untere Rietstrasse 30
72555 Metzingen
T +49 (0)7123 164-0
info@storopack.com